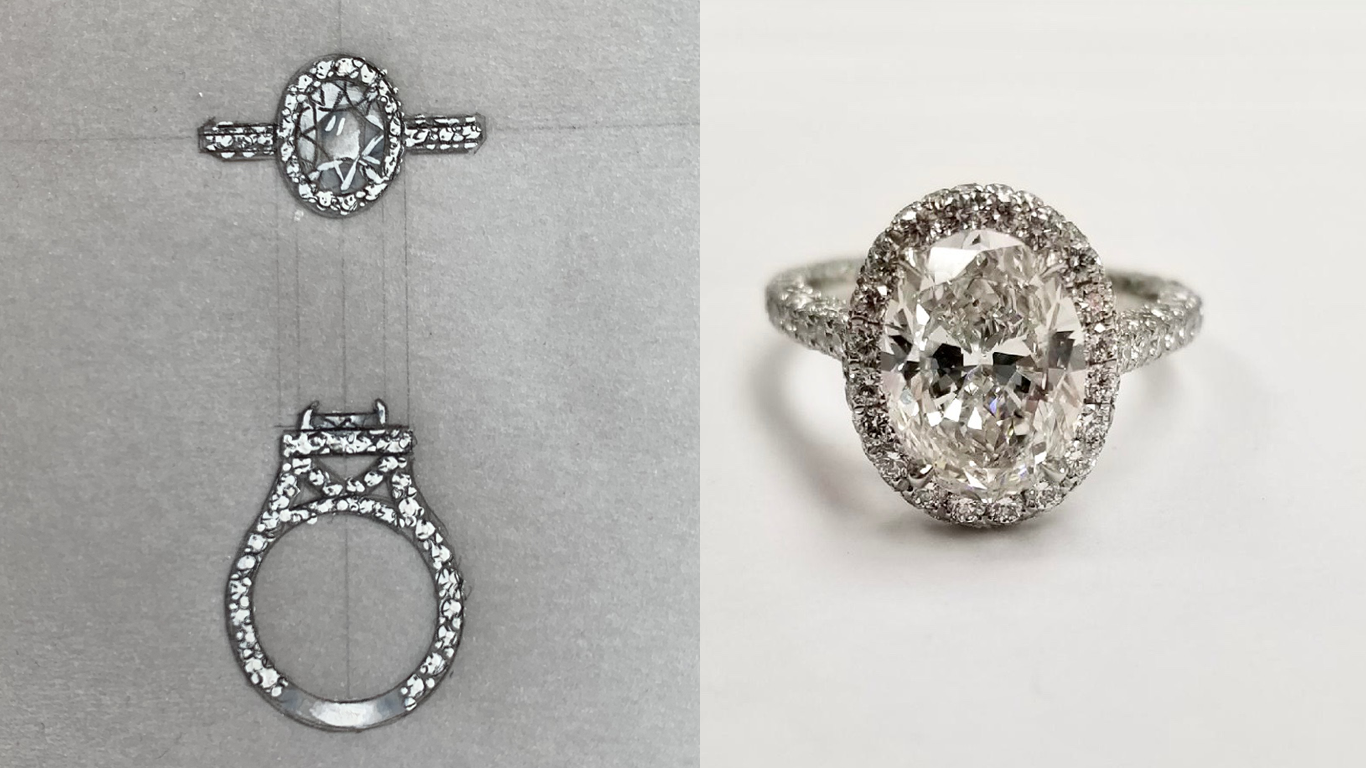 Our Custom-Designed Jewelry Process from Start to Finish
At Maytal Hannah, we're passionate about creating pieces of jewelry that match your personal vision. Custom jewelry allows you to bring your style to life, with a perfect fit and design, all while creating an item that will be a story starter for years to come. Of course, custom-designing a piece of jewelry can seem overwhelming at first. It involves extensive planning, as well as expert attention to detail. Luckily, with our artisans' craftsmanship and experience, you'll walk away with a stunning eye-catcher that matches your vision. Learn more about our process for custom-designed jewelry—and why we take such great pride in every piece that we create.
Initial Consultation
When it comes to designing a custom ring, the first step is one of the most important: we want to go through the creative process with you, ensuring that we fully understand your wishes through a private consultation. This consultation can take place over the phone or via email, and clients in the Los Angeles area can also set up a private appointment to visit our studio in person. During the consultation, we'll work with you to understand your concept for the jewelry, whether the final piece will be an engagement ring, a birthday necklace, or a special "just because" gift.
Most importantly, our goal is to determine your opinion on the scale, metal, shape, and design of the final piece. Our expert jewelers can also share their opinions and insights as you explore your options, helping a beautiful design to emerge by the end of the consultation.
Choose a Gemstone
Just as every piece of jewelry is unique, the same is true of every gemstone—and our goal is to make sure you find the perfect stone for your taste. We'll work with you to get the best and most attractive diamond or semiprecious gemstone within your budget, at a great price and value point.
In addition, if you'd like to bring in your own diamond or gemstone, we're happy to simply use yours and create a customized mounting for it.
Hand Rendering of Design Drawn to Scale
To help you envision the final product, our experts will create a hand rendering of your design, drawn to scale. This full-color illustration allows you to give us additional input as needed, in case parts of the mock-up don't meet your expectations.
We're always more than happy to answer any questions or concerns at this stage—after all, we want the ring to be a timeless piece you'll treasure forever! We'll make any necessary alterations to tailor the design to your preferences.
100% Hand Fabrication of the Jewelry
Once you've agreed that you like all of the elements of the full-color hand rendering, the final step in the process is the creation of the custom piece. All of our jewelry is handmade, meaning that our artisans literally begin from scratch and create the custom ring or jewelry without the use of computerized technology. Your custom jewelry will be hand-forged using the raw precious metal you've chosen, and it will be painstakingly worked, cleaned, and polished, including any engraving and the setting of your selected gemstones. The final result is a timeless and truly one-of-a-kind piece created with the utmost care and attention.
We're always excited to work with clients to create unique and treasured pieces of jewelry, and we love that our custom designs become a part of the story you share with your friends and family. Don't hesitate to get in touch with us to learn more about the custom design process, or to set up an initial consultation.
Sorry, the comment form is closed at this time.