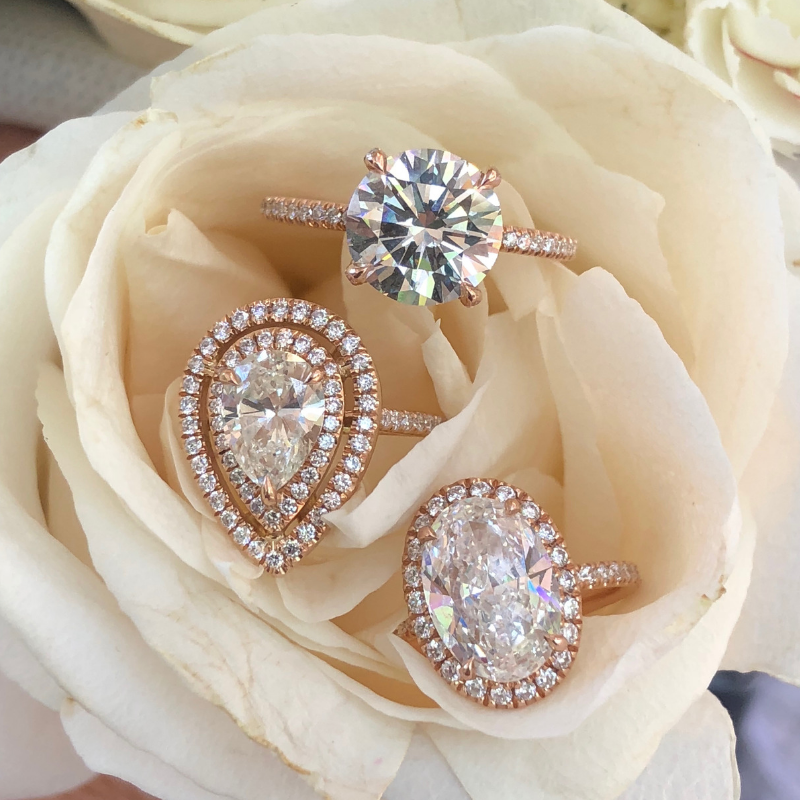 Engagement Ring Makeovers: How to Redesign Your Ring for a Whole New Look
Traditionally, we wear our most precious jewelry—our engagement and wedding rings—on the fourth finger of the left hand. It's a custom born from ancient Egyptian and Greek lore, from people who believed this finger held a blood vein, the vera amoris, that ran directly to the heart. Today, we still keep up with this tradition, keeping our most sentimental pieces in a place that symbolizes the strength of our love.
Over the years, though, the engagement ring might grace our finger less and less often—even though your love is as strong as ever. Maybe that stunning piece you were once so excited to have on your finger doesn't do it for you anymore. Maybe you've dreamed of something with more sparkle, something that fits your updated style.
The truth is that engagement ring trends change, and what was once on trend (like heavy metal bands) may shift to something new. Today, redesigning a ring is a popular way to hold onto the original piece while adding modern flair. Here are three easy ways to recreate one of your most beloved pieces of jewelry.
Remake your setting
Often, couples have a sentimental attachment to the original diamond used in a ring. But if the diamond doesn't stand out in the way you want, or if time has changed your opinion about the style, you may want to simply remake the setting while keeping the gem.
This choice is often used for rings with very high settings (making them impractical or prone to damage) or very low settings (which may not catch the eye as desired), or ones with heavy metal. In these cases, or in cases where a ring has already been damaged, we can alter the setting for a more stylish, timeless appearance.
There are countless ways to remake your ring, according to personal style. One common and beautiful option is to add two gems for a three-stone ring, with smaller diamonds placed on either side of the original diamond to increase the size of it. For a more drastic change, you might decide to add gems in a "halo." This leaves your original diamond in the center while surrounding it with gems, increasing the sparkle and size of your ring. All of these options can also be done with colored gemstones, like rubies or sapphires, to add a burst of unique color to your ring.
Upgrade your diamond
Alternatively, some people decide to upgrade their original diamonds for a larger stone. Many couples can't afford a sizeable diamond when they are first engaged, but as their careers progress (and their relationship grows), they may decide to mark the changes in their lives by upgrading to their dream ring.
You can also change the shape of the diamond if desired, opting for a stone that follows a more modern fashion. In addition, we'll purchase the original diamond from you, allowing you to trade it in as partial payment.
Create a second ring
For those who want to hold onto their original ring without changing it, another option is to create a completely new ring to pair with the first. This is especially common among couples who want to create a diamond eternity band for an anniversary or personal milestone. These new rings are commonly worn with the original engagement ring or on the right hand.
A swoon-worthy update, tailored to your style, can add a truly personal touch to an old engagement ring—and symbolize a love that has only grown stronger with time. For more information, contact our team to learn how we can redesign your most precious ring.
Sorry, the comment form is closed at this time.