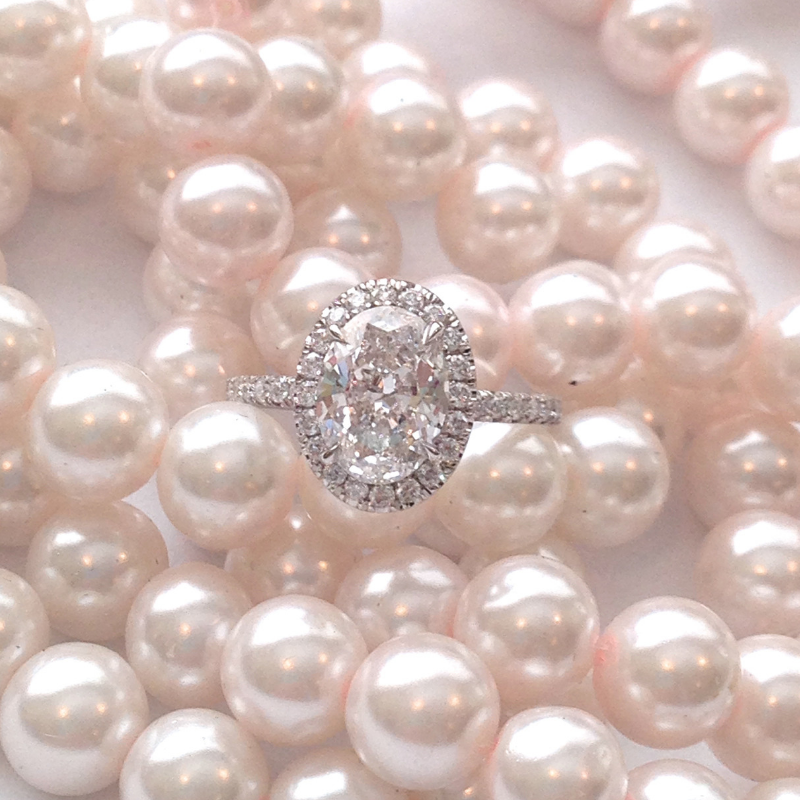 3 Simple Ways to Clean Your Engagement or Wedding Ring
Just like anything else, your jewelry accumulates dirt—even when you're not looking. Dust, grime, and unsightly deposits of gunk can really take away from the radiant sparkle and shine of your beloved engagement or wedding ring. Everyone should know how to keep their rings looking freshly polished and clean, whether that means shining it by hand or bringing it in for a professional ring cleaning. After all, if you love your ring, show it some love by cleaning it regularly…and then, get back to showing it off!
You should ideally clean your ring at home once every two or three weeks, just to clear away those everyday deposits of dirt or oil, and bring it in for a pro cleaning once or twice a year. Here's how to give your ring the TLC it needs.
Soap and Water Cleaning
If your ring doesn't have too much dirt or oil buildup, especially if it's only been exposed to everyday sweat, cosmetics, and dirt, you can easily clean it at home.
The best solution is to clean your ring while running it under warm, almost hot water. Grab some dishwashing soap to cut through any grime. You'll want to avoid any moisturizing products, though, as these can occasionally leave a thin, oily film over the ring. Also, be sure to avoid using any harsh cleaners with chemicals like bleach, chlorine, or acetone, as these can cause damage to the metal of your ring.
You'll also need a super soft-bristled toothbrush, which you can use to (very!) gently brush the ring and stone. Be careful, though: the toothbrush will never scratch the diamonds, but it may leave tiny marks on the metal if the bristles aren't soft enough. And while you're at it, be sure to avoid using any "home remedy" products more abrasive than the soft bristles of a toothbrush, as baking soda or other abrasive powders can scratch the metal of your band.
When drying off your ring, avoid paper towels, which can actually cause small scratches on certain metals. Instead, use a cotton towel or microfiber cloth, or simply let the ring air-dry.
If you feel like your ring needs a little more help than soap and water, you can also find a non-abrasive, chemical-free cleaning solution. However, it's very important to know your ring and do your research before buying one. Different metals react differently with certain chemicals, so you should purchase a commercial cleaning solution specific to gold or silver jewelry, for example. Of course, to be sure the product will work for your metal and gemstone, you can also ask a professional jeweler for a recommendation.
Best of all, cleaning solutions are straightforward to use, meaning you can simply follow the instructions to easily clean your ring.
Professional Cleaning
Over time, the buildup of oil and dirt on your ring might be more than you can handle—and that's where your local jewelry store comes in! When you're ready to restore your ring's shine, bring it to us or to a local jewelry store for an ultrasonic cleaning. These types of cleanings cast vibrations through a specialized cleaning solution, which agitates the ring in order to remove any contamination on its surface. However, this process should only be done a few times a year, as all the vibration could eventually loosen the stones.
With a little regular ring cleaning, you'll have your sparkler shining like new in no time at all. Your diamond ring is an investment, so take great care of it to make sure it stays on your finger for years and years to come!
Sorry, the comment form is closed at this time.