Choosing Your Wedding Band Style
Wedding bands have a long history steeped in tradition. They serve as a physical representation of a bond between two people. They are believed to have been started in ancient Egypt, where "rings of love" were given, where the circle shape represented eternity. Today, the wedding band tradition has extended into many other cultures around the world, including our own. Traditionally, an engagement ring is given first when the groom proposes marriage. At the wedding, the couple exchanges wedding bands. If you recently got engaged and are looking for a wedding band to pair with your engagement ring, here is a quick guide to the most popular styles of wedding bands.
Wedding band styles
If you're a groom-to-be reading this, rest assured, the wedding band choice is usually the bride's. If you're the bride-to-be, you're likely wondering what type of band to choose. You have several choices to pick from. The more traditional people may feel that they should wear their wedding band and engagement rings together. Others want the engagement rings to stand alone so they get a wedding band for their right hand. And yet others take off their engagement rings for work or travel and wear the wedding band alone. So you want something that matches well with your engagement ring but also looks appealing to you as a stand-alone ring if you decide to go that route!
Plain metal band
The simplest choice is a plain platinum or gold band, usually the same type of metal as your engagement ring. This can be smooth, textured, or beveled. Simple and timeless, a plain platinum or gold wedding band is very practical and perfect for those that work with their hands a lot. If you want something a little more unique, some wedding bands are shaped rather than being perfectly round/circular.
Eternity band
Eternity wedding bands have diamonds all around the circumference of the ring. Just to name a few, you can choose to opt for pronged settings, pave settings, or channel settings. One very popular variety of eternity bands is the pave setting, which has diamonds set inside the metal. There are different variations of this, including French pavé settings, classic pave (aka brightcut), and micro pave setting styles. These can be made using different shape diamonds and sizes, and can be worn together or on the right hand. For larger stones, a shared prong style looks best, showing off the diamonds and not much metal.
Gemstone/ unique bands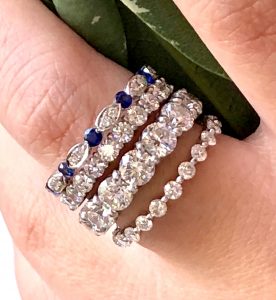 Maybe you want something more unique…modern…more "you". In that case, you can opt for a gemstone band or uniquely shaped metal band. Whatever style you choose to go with, you have the option of choosing gemstones in your wedding band, in addition to diamonds (often in an alternating pattern) or alone. Gemstones in a wedding band add a pop of color and a unique, modern feel to your wedding band. There are also unique metal shapes, including scalloped, infinity, and floral, which can have diamonds set throughout. These can match your engagement ring style, or not!  This is by no means an exhaustive list….there are just so many choices!
Whether you need help deciding what you'd like your wedding band to look like, or you have a very specific vision for your wedding band style in mind, find a designer who can help give advice, inspiration and can walk you through the creation process.
Sorry, the comment form is closed at this time.