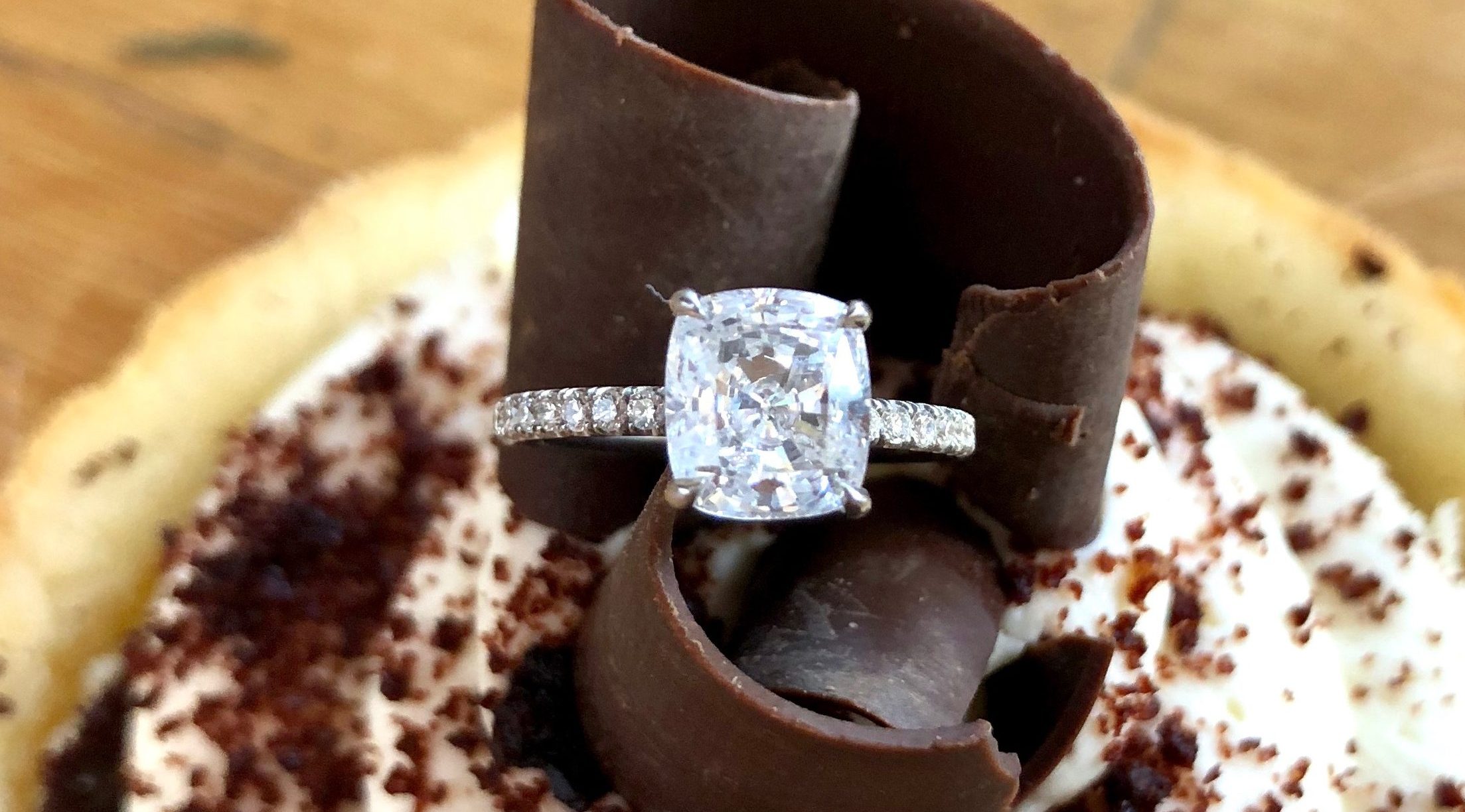 Ways to Make Your Engagement Ring Appear Bigger
When the time comes to break the news, the first thing everyone will want to see is the engagement ring on your finger.
But when pricing seems like an obstacle to the perfect size you have in mind, choosing the style of your ring can feel like a headache. After all, a two-carat diamond doesn't just cost double that of a one-carat: it's exponential. This means that instead, that two-carat diamond can cost more like six times that of a smaller stone.
Luckily, it's possible to maximize the carat weight appearance of your ring, making it appear larger at a fraction of the price.
Put a Halo Around It
Appearance is all about perspective. Adding a delicate halo can help your diamond appear larger than it actually is, without requiring the money it would cost to invest in a larger stone. A halo of smaller diamonds can be a surprisingly affordable way to get the look of a two-carat stone, at a just a fraction of the price.
If you're considering this option, however, make sure to choose your jeweler carefully: proportions are very important when it comes to halo rings. The last thing you want is to find yourself with a halo that looks too large, as this makes it look like you're trying too hard to make your diamond look bigger. In some cases, a disproportionate halo can even look like a cocktail ring.
An experienced jeweler will keep in mind the true purpose of a halo: to enhance the beauty of the center diamond, not to swallow it up with surrounding bling.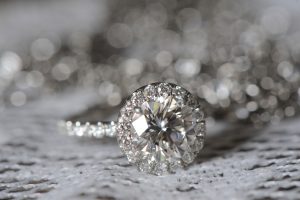 Consider Your Diamond Shape
Round diamonds are traditional, but they're also the most expensive cut. Instead, consider getting a fancy shape diamond of the same size for less. If you're looking for a longer diamond that fits elegantly on the finger, there are a wide range of options. Try shapes like ovals, pears, elongated cushions, emerald, and radiant.
As you consider the shape of your diamond, however, there are a few important caveats to keep in mind:
Fancy shapes can be tricky to buy.

Round diamonds are easier to buy off a certificate, as there are accepted ideal cuts for them—but fancy shapes can vary. A fancy diamond may look great on paper, but the shape may seem awkward in person, or the diamond might look a little lifeless.
Size matters.

Often, we think "bigger is better"—meaning you should buy the larger of two diamonds with the same carat weight but slightly different measurements. However, this isn't always the best decision. The

cut

is what matters, as it determines how much a gem sparkles. If the cut of the larger one is poor, light will seep out of the bottom of the stone, giving you a "dead" diamond—meaning no sparkle!
A diamond expert is your friend.

Buying a gemstone online can be surprisingly difficult. People tend to think they're saving, but they may end up with a mediocre, lifeless diamond. If a deal looks too good to be true, it probably is!
Choose a Thin Band.
As we said earlier, perspective really matters when it comes to the appearance of your ring. A delicate band shows off your diamond, making it appear larger by comparison. On the other hand, a wider band can swallow up a diamond, making it appear smaller. If you prefer a thicker band (which some wearers find more comfortable), work with a jeweler to find the right balance between comfort and appearance.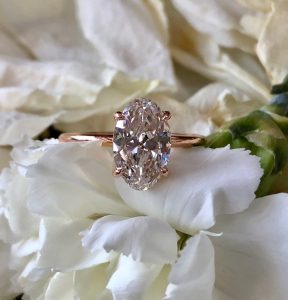 Opt for Delicate Prongs.
Your diamond needs prongs to keep it in place—but chunky, large ones can cover up the sides of the diamond. This can sometimes make the diamond appear smaller, showing off a little more metal instead.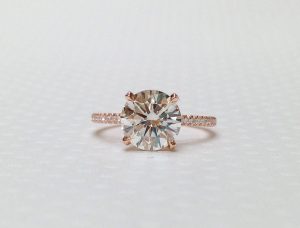 Consider Your Finger.
It all depends on you: longer diamond shapes tend to look more elegant on someone with long, thin fingers, whereas shorter fingers often look great with a rounder shape. Of course, this is entirely up to your tastes and preferences, so use this advice as a jumping-off point while keeping your own style in mind.
At the end of the day, you're the one showing off the stunning ring on your finger, and the one who will be wearing it in the years to come. It's crucial to make sure that your ring hits all the right notes with your own style and preferences.
Click here to talk to an expert about maximizing the appearance of a ring.
Sorry, the comment form is closed at this time.