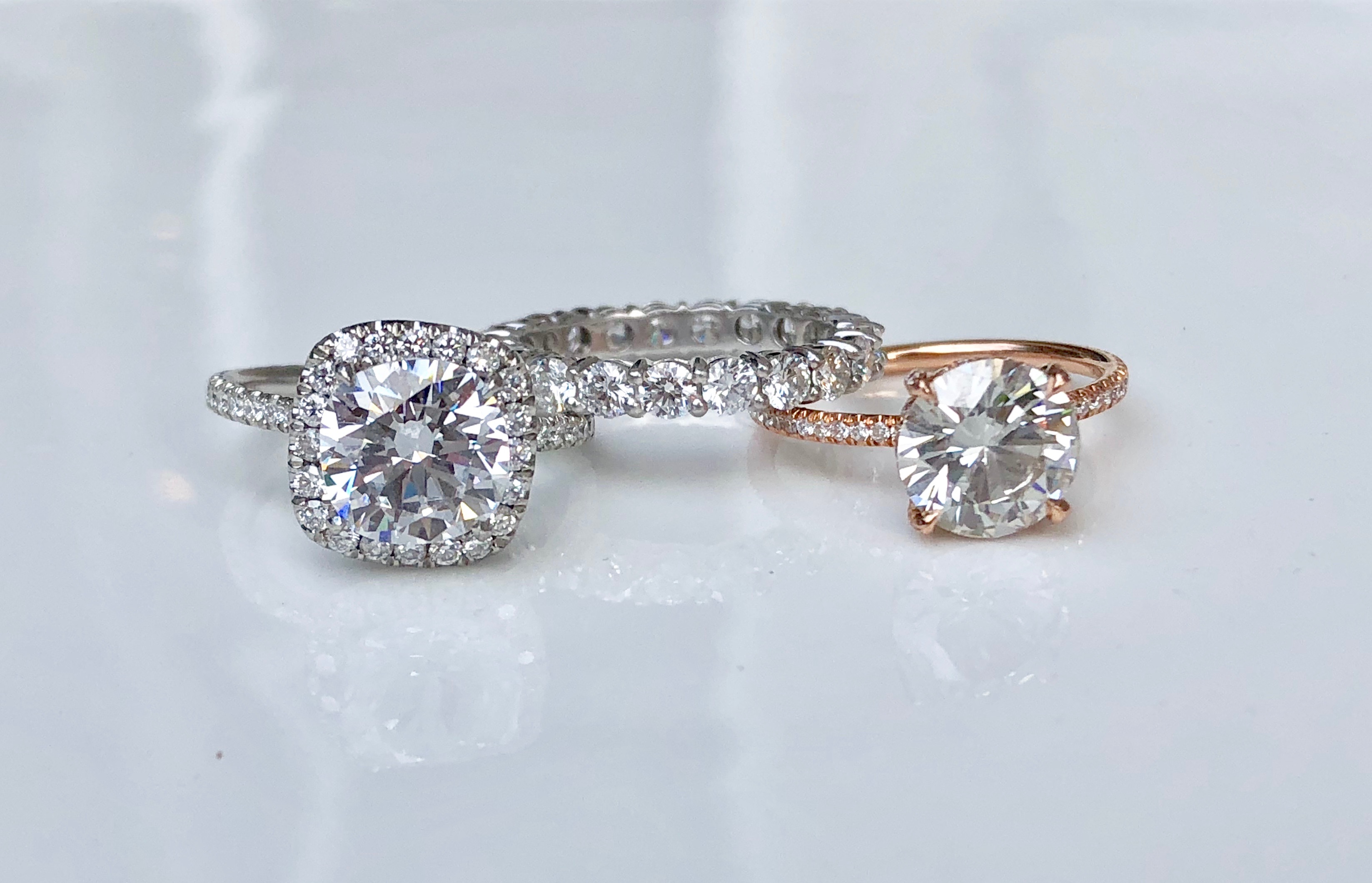 Picking Your Diamond Engagement Ring Setting
While many people select a ring based on the gemstone, it's easy to forget the role the setting plays in creating the perfect nest to highlight the beauty of your stone. A proper diamond not only shows off the diamond, it enhances it's beauty without overwhelming it. Here are a few things to keep in mind when choosing the setting of your ring.
Height Considerations (not too high, not too low)
For both aesthetic and practical reasons, it's important to think about how high you want the stone to sit on the band. With a high setting, the stone protrudes from the metal band to sit high atop the finger. This can help the diamond to catch the light, showing the gem off from far away. By contrast, a low setting keeps the diamond closer to the finger, which is great for active jewelry-wearers, as it gives fewer opportunities to hit or scratch the ring. Finding the happy medium not only shows off your diamond, but also keeps it safe!
Diamond Setting Types
In this diamond setting style, the center stone is surrounded by a collection of round pave diamonds or gemstones.   It is a great way to give the diamond a much larger look and create more sparkle. It must, however, be done in the right proportions–pave diamonds that are too big will overwhelm the diamond and no longer show it off.
This diamond setting style comes in a wide variety of shapes and styles, including the popular basket and cathedral styles. All prong settings follow the same method: metal tines, or prongs, hold the stone in place. These can appear flat, round, pointed, or V-shaped according to the ring design.  The classic Tiffany ring is 6 prongs.
In this diamond setting style, a metal band is wrapped around the diamond, adding visual size to the stone and even creating an illusion of a larger stone. It keeps the edges of the gem protected and holds the stone securely.
A row of gemstones is secured in place in a groove between vertical walls of metal. This linear style gives the ring a modern edge, with the gems appearing to float between metal bands.
As name suggests, this setting makes it appear as if the gemstone is held by nothing at all, as opposed to other settings where the viewer can see metal prongs or bezels. This setting can help create the illusion of a larger diamond.
While the diamond itself plays a huge role in the appearance of the ring, the setting can make all the difference. A truly superior ring uses the setting to optimize the beauty of the diamond, creating an exceptional, one-of-a-kind piece.
Sorry, the comment form is closed at this time.