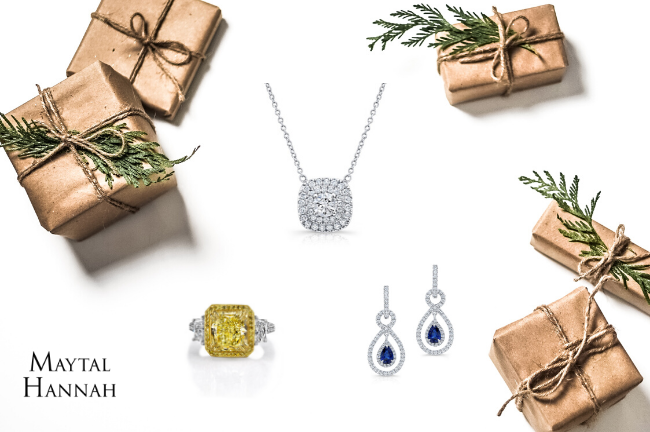 Your Diamond Edition Holiday Guide
It's that time of year where you might be overwhelmed by advertisements of gifts you can buy for your loved ones and the parking situation at your local mall is worse than Disneyland. Because we know this can be a challenging holiday season, we wanted to provide a useful holiday gift guide – for the love in your life that deserves something a little better than the shopping center chaos!
For the Luxury Jewelry Collector:
You know the one; she has a huge (or multiple) jewelry box(es) filled with precious gems, both antique and modern jewelry, and she spends time matching each outfit to the perfect necklace/bracelet/earring combination. Sometimes, it can be tough to shop for a collector, because you think – she has it all! But the great thing is, she can always add to her collection. We recommend a custom necklace or colored diamond ring that will stand out in her jewelry box. Pair your choice of metals with various cuts and colors of diamonds and precious stones to create a custom piece only this collector owns!
For the Always Manicured Hand:
This lovely lady always looks her best from head to toe. She doesn't go a week without a manicure and because she regularly shakes hands with potential investors, buyers, or partners, she pays special attention to her mitts. Help her make an impression with a custom diamond tennis bracelet, or a round or emerald cut right hand eternity band!

For the Simply Elegant:
Does your mother, sister, or partner always look like a vision without trying at all? She dresses comfortably and has an easy air about her. She does however, have a taste for the finer things in life… like diamonds! A set of diamond earrings would be the perfect gift for her to complement her naturally simple elegance.
For the Out-of-the-Box Thinker:
If none of these options seems like the best fit for the special lady in your life, then we recommend gifting her a custom piece of her choosing. She might have an antique heirloom that needs restored or maybe she'd like to design her own engagement ring (hint hint). Whatever the case may be, we'll work with her to hand forge the jewelry of her dreams.
Whatever you're envisioning, we're here for your holiday gift needs and would be happy to create a special one-of-a-kind piece for the ladies in your life.
Sorry, the comment form is closed at this time.