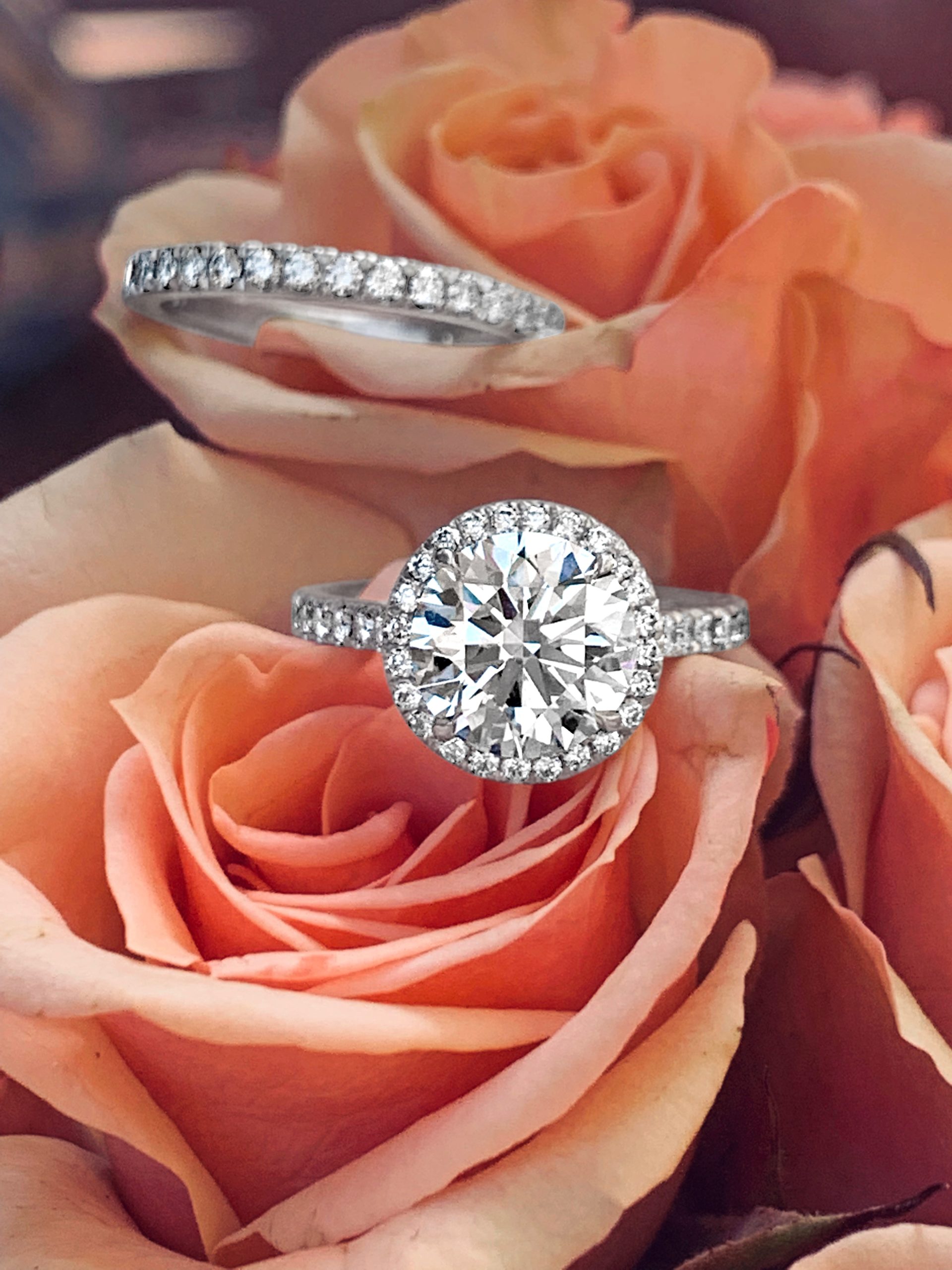 Customer Jewelry Design Story: Lindsay's Engagement Ring Upgrade
We had the good fortune to work with Lindsay on her engagement ring upgrade right before stay-at-home orders encouraged us to temporarily close our design studio. We were so happy that she contacted Maytal and are even happier at how much she loves her newly improved ring.
We checked in with Lindsay a couple of months after the project was complete to see how she was enjoying her hand forged diamond engagement ring, and this is a little bit of her story.
Lindsay was in search of an upgraded diamond and setting for her engagement ring. She purchased a stunning diamond through an online market and was excited to look for a jeweler who would set it. Unfortunately, the first team she worked with didn't do the job she was hoping for. She learned through the process that she has extremely good attention-to-detail, can notice even millimeters of difference in her setting and can tell if the colors in a diamond or any gem seem a bit off.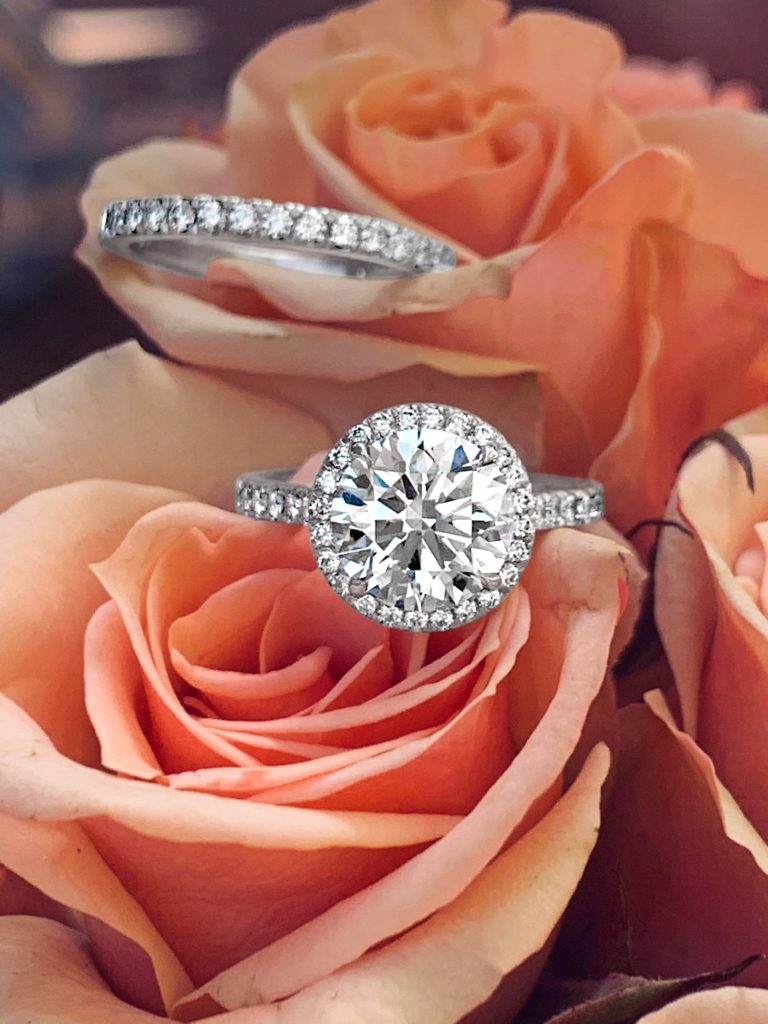 Through searching on Pricescope, Lindsay found Maytal and gave her a call. She said she was immediately put at ease with Maytal's personable approach. Lindsay explained how she wanted the halo to accentuate the diamond, but not be so big that it was awkward to wear.
I had my ER reset by Maytal Hannah and she was amazing to say the least! I had very specific requests and she did EXACTLY what I wanted, including getting to the mm halo width I wanted and number of stones around it. Her artistry is amazing and I can totally see the difference between hand-forged and cast. She was quick in the turn around, gave me a discount because she was sensitive to the fact that it was a redo. Besides her amazing talent and professionalism she was so kind and most thoughtful in our correspondence and replied very quickly to all my questions. I highly recommend her and her work to anyone looking for a one-of-a-kind handmade piece of artistry.

– Lindsay's Review on Pricescope
The team designed an upgraded round halo diamond engagement ring and eternity band to match. Lindsay was a bit apprehensive about the project, because her requests were very detailed, but she was relieved that Maytal didn't make her feel judged and assured her that it was a project the Maytal Hannah team could handle… down to the last millimeter.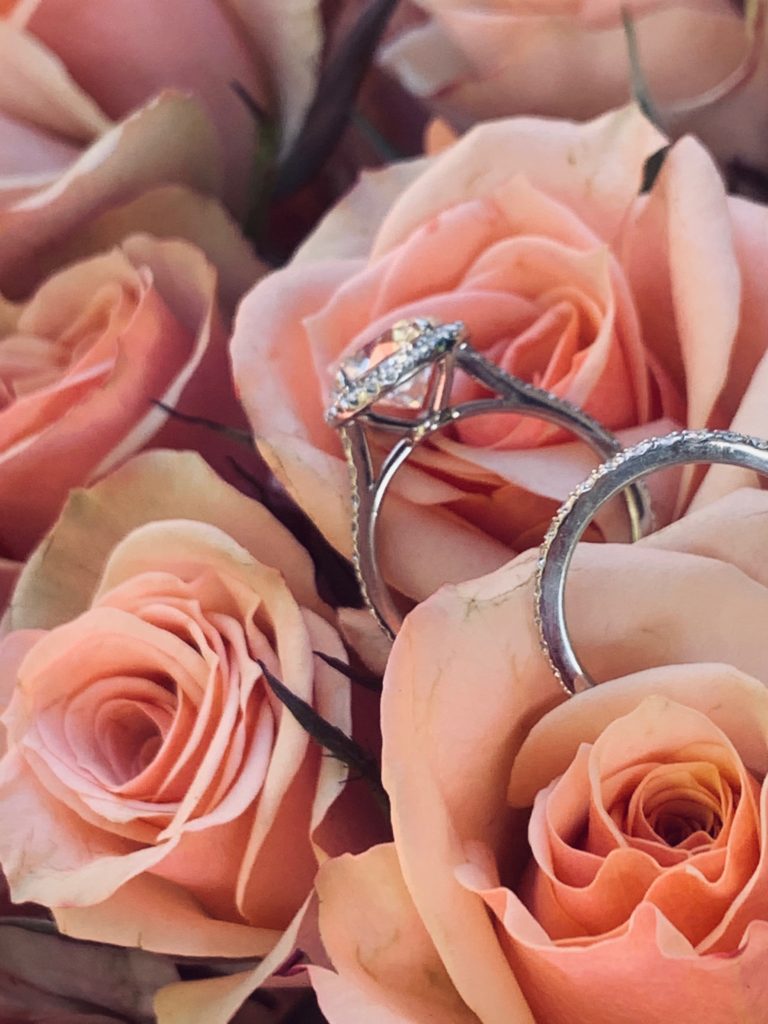 Maytal kept Lindsay in the loop throughout the design process, promised the ring in 6 weeks, and as the project was wrapping up, she sent Lindsay photos of the finished ring. Lindsay said she could tell even from the photos, that it was the ring she dreamed about! The ring was complete and delivered right at the 6-week mark, and Lindsay couldn't be happier.
She was amazing from the start. I looked up her information and found her contact number and gave her a call. She picked up right away and I explained that I wanted to reset my ER but that it wasn't a major overhaul just some details that bothered me about the other ring. I had an exact picture in my head of what I wanted and she listened very thoughtfully to my specific requests. I imagine she would be equally amazing to work with had I not had this vision and wanted to go through the design process with her from scratch. She has such an artistic eye and talent. I LOVED that she was so open, non judgmental, or pushy with any of it. She was patient and KIND and I didn't ever feel pressured. I had reached out to another vendor earlier on but was disappointed that it was kind of a one-size-fits all model, with few limitations, but Maytal wasn't like that all. She was so warm and thoughtful through the whole process.

-Lindsay's Review on Pricescope
Lindsay also mentioned how happy she is that she decided to work with Maytal, because the workmanship in a hand forged ring is noticeably better than a cast ring. She's excited for future opportunities to work with Maytal, now that she knows she's in good and kind hands.
Sorry, the comment form is closed at this time.